Eco-Friendly Practices Through All Your Business Processes
Genesis services incorporate utility cost/carbon footprint reduction and green packaging. We also offer electronic component (e-waste) disposal and certified destruction programs.
Selected Genesis programs incorporate recycling of:
Metal
Polyurethane
Polystyrene
Green Business Certificate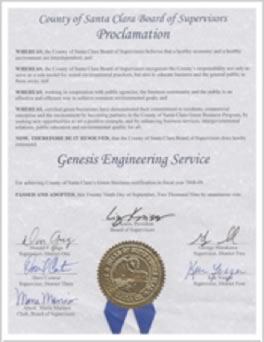 The Santa Clara County Green Business Program is a regional joint venture program for certifying businesses throughout Santa Clara County that operate using environmentally sound practices.